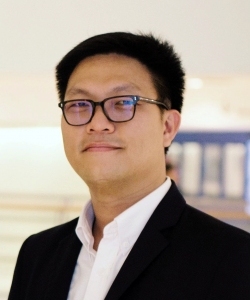 Suttisak Wongpiya
Specialization
NLP
Life
Personal
Educational
Business
Project
Transitional
About
Suttisak Wongpiya has over 15 years of business experience dealing with the creative
economy, starting from consultation and design processes to production processes of
printed and traditional PR media. His services catered to various businesses, companies, government entities, and leading organizations in Thailand.

Suttisak has keen understanding, knowledge, and ability to develop practical designs
that take production and resource constraints, economical use of resources and
development of new alternatives into consideration so as to fulfill defined objectives.
Such knowledge and skills are valuable in many ways when applying to personal
development.

As for coaching and training experience, he attended several Enneagram, coaching
and self-development training courses and received certification from several Thai and
internationally recognized training institutes. They include:

• Certified Neuro Linguistic Programming Master Practitioner, American Board of
NLP, USA

• MBTI and the Contemporary Coaching Tools, MMGrower, Singapore

• Enneagram Training of the trainer, Thai Enneagram Association, Thailand

• Into the Moment - The Creativity workshop, Journey to the innermost intuition, Gil
Alon, Israel

• Certified Framework Coaching Process's Facilitator, Innerlinks Associates, USA,
Findhorn Foundation, UK

• Consulting with Enneagram, The Enneagram in business, Ginger Lapid-Bogda PhD., USA

Suttisak believes that organizational change starts from the level of personnel who
must be committed to continuous self-development which encompasses spiritual
development and interpersonal relationship skills. At an organizational level,
an organization can progress satisfactorily when it has suitable personnel development
system, model and structure that are aligned with organizational goals and deep
understanding of staff personalities.
Personal Addresses
Sukhumvit 101/1 rd., Bangna,
10260 Bangna,
Thailand
For the content of the profile is only the person responsible who created and updates the profile. All details are without guarantee.