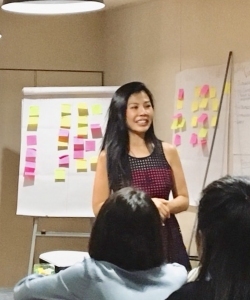 Ms Suangsan Chotithamaporn
Specialization
NLP
Life
Personal
Health
Relationship
Conflict
Educational
Business
Executive
Burnout
Team
Project
Transitional
Stress
Mental
Mentor
About
San is a very active woman with broad interests. She is an Executive and Life Coach who also specializes in Retail learning. San believes in making a difference and in awakening possibilities in people's lives, she has confidence in unleashing the human's potential to be the best that one can be. She is determined to help people live their lives fully and passionately. It is this belief and commitment that keeps her motivated to make a personal career switch from the luxury industry to coaching and training to help people achieve the best of themselves.
As an Executive Coach, she helps companies to develop their high potential and to continuously develop current executives' leadership skills so as to ensure the company continued success. She also helps new managers, executives who wish to improve their relationship with co-workers, professionals. As a life coach, she helps clients overcome fear and obstacles in life. Through specific strategies and skills, she helps the client define themselves and create the life they envision. She helps clients focus, provides directions, challenge, support, and motivates them. San also helps clients create a plan, detailed action steps and holds them accountable for following through. She uses skills that include observing, active listening, asking empowering questions, challenging, motivating and provide intervention for her clients to achieve their goals.
San was educated and lived in many countries, including Malaysia, Thailand, Singapore, Japan, Canada, Hong Kong, and China. She is trained and passionate about Coaching and Organizational Development. Some of the certifications she holds include ICI coaching certificate, NLP practitioner and master practitioner and coaching for greater effectiveness.
San's career started as a graphic designer in the '90s, and soon after that started her own company in Thailand as one of the first computer graphic company in Thailand.
Her journey with the luxury world started in the year 2000 as Managing Director Kingfisher Marine - a luxury yacht chartering and brokerage company in Thailand, before being recruited by Louis Vuitton to supervise retail in Thailand. She then joined Omega as Vice-President managing the brand in Thailand, before moving to China, re-joining Louis Vuitton to manage their Watches and Jewelry division for the China / Macau / Mongolia Zone, and then Louis Vuitton Training and Learning Manager South Asia Zone (11 countries).
Overall, San's 38 years' work experience includes Entrepreneurship, Business Development, Merchandising, Retail, Retail training and Customer care with working exposure in environments as varied as Singapore, Australia, Hong Kong, China, India, Thailand, Indonesia, the Philippines, Malaysia, Vietnam, Guam, and Saipan. This experience has provided San with the opportunity to work with very diverse teams in very different environments.
As a person with diverse interests, San is building a retreat community and resort in Thailand founded on the belief of cultivating sustainability, natural approach to wellness through food and healthy living. On quieter days, she would spend time painting and drawing to enhance her creativity, focus and relax. She is also an outdoor person who loves nature and travels, so going out on her mountain bike to explore the world on a long journey is a key part of her life. As a scuba diver, she is active in preserving the ocean. She turned Vegan 5 years ago for 3 reasons: kindness to animals, kindness to Mother Earth and kindness to her own health. Now she runs workshops as a hobby during her free time, focusing on healthy eating and living to help people achieve better health and a better life.
As a happily married mother of young twin girls, San brings them up in line with her values, balancing work and family life.
Today, San is living her dream of 'Making A Difference' by creating better teams in organizations, communities, and homes... contributing to a better world for all. San believes in bringing out the best in every person. She believes that work should be fun and that life is about living in the present. Her diverse experience, energy, drive, charm, and sense of humor make her a brilliant coach and a great person to be with.
Personal Addresses
15/15, Prompak Gardens, Sukhumvit soi 49 Yak 6, Sukhumvit road, kwang Klongton-Nua, Vadhana,,
10110 Bangkok,
Thailand
For the content of the profile is only the person responsible who created and updates the profile. All details are without guarantee.