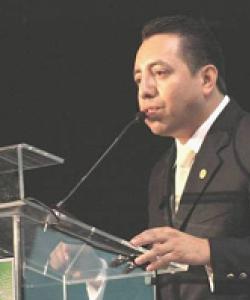 "Coach Master Trainer, ICI"

Entitled to seal

+52 (55) 5986-3050
Dr. Ricardo Roberto Saavedra Hidalgo
Specialization
NLPsych
Life
Personal
Health
Educational
Sports
Business
Executive
Burnout
Team
Transitional
Stress
Neuro
Spiritual
Systemic
About
Dr. Ricardo Saavedra, Fundador Licenciado en Ciencias de la Salud, Maestría en Educación, Doctorado Psicología. - Maestro de Sistema REIKI - USUI SHIKI RYOHO - Master of Magnified Healing - Living Light - Iniciado en la Flor de la Vida de Drunvalo Melchizedek - Nutricionista Certificado - American Association of Nutritional Consultants - Especialista en Terapia de Rebirthing - American Association of Cultural & Universal Studies - Terapista Certificado en Regresión- Lighting the Path Seminars - Certificado Internacional como Instructor de Coaching, UCNIP - Neuro-Psychology of Achievement - Harvard University - Kinesiología Holístico - Entrenamiento personal Dr. Maria Corbett El Dr. Ricardo R. Saavedra es Director General de Pro-Innovación y Presidente para México de la International Association of Coaching-Institutes de Alemania, ha sido colaborador en proyectos de ONGs del Consejo Económico y Social, y del Departamento de Información Pública la Organización de las Naciones Unidas ONU, y diversas agencias internacionales. Experto en educación internacional con proyectos en países y regiones como México, Estados Unidos, Unión Europea, Malasia, China, Caribe, Centro y Sudamérica. Ricardo Saavedra ha sido el precursor de la creación de una red internacional de universidades donde cumple funciones como Asesor en Desarrollo Internacional y Catedrático en temas de Liderazgo Organizacional, Coaching, y Asuntos Internacionales.
Institute Addresses
06500. Col. Cuauhtémoc, Del. Cuauhtémoc México D.F.,
Mexico
For the content of the profile is only the person responsible who created and updates the profile. All details are without guarantee.