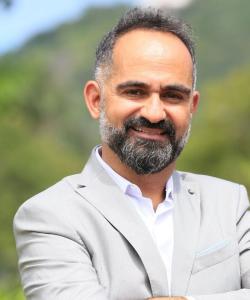 Helder Amarante
Has achieved "Coach Trainer, ICI"
Specialization
NLP
Life
Personal
Sports
Executive
Team
Stress
Neuro
Mental
Systemic
Hypnosis
About
Consultor de empresas com mais de 29 anos de experiência. Pós-graduado em Programação Neurolinguística (PNL). Analista de sistemas. Graduado em Administração com ênfase em Gestão de Recursos Humanos. Professor convidado em cursos de MBA em Gerência de Projetos nos temas: Coaching, Liderança, Comunicação, PNL e Neuro-Semântica.
Master e Trainer em PNL com certificação internacional pela IANLP-International Association of NLP. Possui formação em Terapia da Linha do Tempo (TLT), Hipnose Ericksoniana reconhecida pelo American Board of Hypnotherapy e Energy Tapping (TFT, EFT e BSFF).
Senior, Professional, Life & Executive Coach com certificação internacional pelo ICI – Integrated Coaching Institute (EUA) e reconhecida pela ICF-International Coaching Federation. Coach at Identity Level com Robert Dilts; Coach Master Trainer credenciado pela International Association of Coaching-Institutes (Alemanha). Team Coach pela Lambent, com certificação pela ICC – International Coaching Community (Inglaterra). Formado em Appreciative Inquiry com Maureen McKenna (Mentoring with Momentum Ltd. Appreciative Inquiry Unlimited – Toronto – Canadá). Condicionamento Neuro-Associativo com Anthony Robbins (Nova Iorque – EUA).
Possui certificação internacional em Metacoaching (Coaching Mastery), Coaching de Equipes e de Trainer em Neuro-Semântica com o Dr. L. Michael Hall, Ph.D. (EUA) – criador da Neuro-Semântica e do Sistema Metacoaching –, com Colin Cox (Nova Zelândia) e com David Murphy Ruiz (México) – presidente da Metacoach Foundation. É também membro da ISNS – International Society of Neuro-Semantics.
É formador de Practitioners e Masters em PNL, na Plexus e em quatro outros institutos em diferentes estados do Brasil, onde atuou em mais de 130 turmas de formação e treinou mais de 3.500 alunos nestas especialidades.
Conduz Coaching com secretários de governo estadual e municipal, presidentes de orgãos públicos e empresas privadas, diretores sênior de multinacionais, empresários, estudantes, empreendedores e profissionais dos mais diversos tipos de atividades e funções, tendo facilitado centenas de pessoas no desenvolvimento de competências profissionais e pessoais.
Fundador, Head Coach e Head Trainer da Plexus Instituto de Desenvolvimento e Liderança, empresa criada em 2007 com foco em pesquisa e desenvolvimento de programas de excelência pessoal. Atua desde 1995 como pesquisador de métodos aplicáveis a processos comportamentais e no desenvolvimento de programas de treinamentos abertos e organizacionais. Ministra seminários sobre Coaching, Neuro-Semântica, PNL, Liderança, Produtividade, Formação de Equipes, Negociação, Vendas, etc. em vários estados do Brasil e em alguns países da Europa.
Capacitado pessoalmente por alguns dos grandes nomes do Coaching, Neuro-Semântica e PNL, como: Robert Dilts, Tom Best, Michael Hall, Anthony Robbins, Joseph O'Connor, Randhy Di Stéfano, Bernd Isert, Sabine Klenke, Heidi Heron, Martina Schmidt e muitos outros.
For the content of the profile is only the person responsible who created and updates the profile. All details are without guarantee.