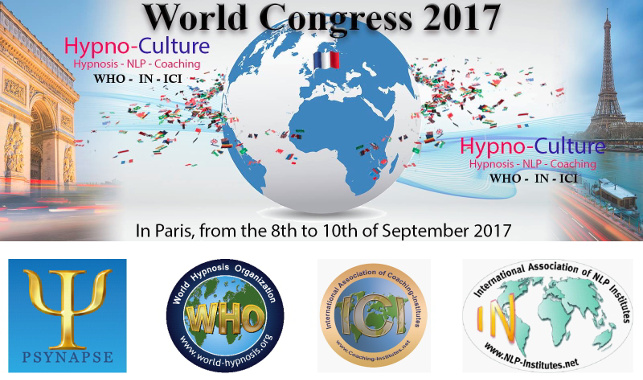 IN ICI WHO World Congress in Paris 2017: First 6 videos
Here are videos from the World Congress in Paris


Prof./UCN Dr. Christian Hanisch: The Method EmotionSync
"The brain is primarily electrically controlled and only secondary chemical.
Traumatisation are stored via an electrical field in the synapses as in a capacitor."
Jörg Fuhrmann: Inner-Team-Focusing®
"Awarenessbased DeHypnosis and Inner-Focusing (ITF) has been developed by Jörg Fuhrmann
as a holistic approach that is based on contemplative mindfulness
and selectively incorporates the wisdom of the body with the inner trance work."
Dr. Lucas Derks: Treat The Moderate Depression, In One Session Of Hypnotherapy
"This method, named Depression in Awereness Space (DAS) is a recently developed sequence
of interventions that can be executed within the time frame of one single."
Dr. Brian Cullen: The Use Of Milton Model In Education
"This presentation examine the use of Ericksonian language patterns in educational settings."
Dr. Thierry Gallopin: PNL, Hypnose Et Neurosciences
"NLP relies on our brains´s ability to change and to adapt mental programs.
Those processes involve complex neural mechanisms, in which modern neuroscience is exploring."
Philippe Vernois: Mouvements Oculaires Et Repatterning
"This presentation explains you an extremely powerful
therapeutic tool taken from the DNR toolbox (Deep Neural Repatterning)."
Virginie Vernois & Valérie Roumanoff: Hypnose Pour Les Adolescents Dans La Peau Du Samourai
"Hypnosis, as a whole, is an integral part of the child´s universe.
A child likes dreaming, imagining and pretending."
Gregoire de Lasteyrie: Hypnose Hyperemperia
"Hyperempiria, created by Gibbons during the 70´s, is the actual opposite of hypnosis,
in terms of suggestion that are used to bring an altered state."
Frank Platzek: La Puissance De L'Hypnose Ericsonnienne Face Aux Ressistance
"Most of our clients are afraid of the change and can resist, one way or another, the establishment
of a relationship of trust, "the rapport" is essential, and will already bring down resistance."
The invitation video for the World Congress in Paris: https://youtu.be/_f_NHmvdZOw
The IN, ICI, WHO representation video: www.youtube.com/watch?v=M9VIBS_1DxE
Last updated on 2019-07-31