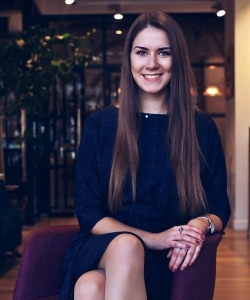 Elena Strigina
Specialization
Life
Personal
Relationship
Conflict
Business
Executive
Burnout
Team
Stress
Mental
Mentor
About
2012 - received practical training in the framework of the Institute of Metaphorical Psychotherapy.
2013 - graduated from the Moscow State University of Psychology and Education (MSUPE). Faculty of Social Psychology with in-depth training in the field of management psychology.
2018 - graduated from the Moscow Institute of Psychoanalysis under the program "The Psychology of Change and Transformational Coaching".
2018 - was certified and joined the ICI - International Association of Coaching Institutes in the position of Master Coach.
2019 - joined the Association for Cognitive and Behavioral Psychotherapy of Russia.
Over 7 years of experience associated with the selection of personnel for business, the development of teams in the HR-unit, individual psychological support and coaching.
Language: Russian, English
What I work with:
- fear of change
- limiting beliefs and internal attitudes
- destination search and self-realization
- emotional burnout
- loss of contact with feelings, emotional anesthesia
- loss of internal resource/meaning/point of support and the ability to find a path to the goal
- work with the needs of the psyche
- work with values ​​and beliefs
- problems in partnerships
- conflict interactions
- career: "I can't find a job * create a resume * pass an interview * take the next career step * feel the" ceiling "in development * do not get along with colleagues / supervisor * I'm tired," burned out "and" unrecognized ", etc.
What I do not work with:
- child psychotherapy
- psychotic level disorders
- addictions (narcotic, alcohol, etc.)
For the content of the profile is only the person responsible who created and updates the profile. All details are without guarantee.